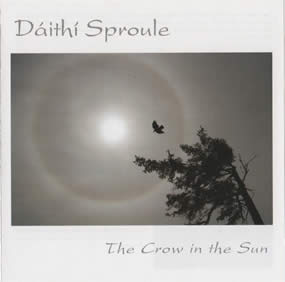 Dáithí Sproule, whose original compositions have been recorded by Skara Brae, Altan, Trian, Liz Carroll, Loreena McKennitt, and many others, has released his first solo acoustic guitar album. The album features thirteen of his original compositions.
Spanning four decades of composing, the melodies capture feelings about people and places that can't be expressed in words. These are warm and richly crafted tunes, many played in the open tuning (DADGAD) that he helped pioneer in Irish music.
While Dáithí Sproule has been a featured guitarist and singer on dozens of recordings, this is only his second solo album. The first, Heart Made of Glass, is a collection of songs in Irish and English, recently re-released by Compass Records. The Crow in the Sun is a New Folk Records recording and is co-produced by Sproule and John Wright. The album is distributed by Allegro Music.
Praise for The Crow in the Sun:
"Beautifully understated, expertly executed picking" -Earle Hitchner, Irish Echo
"This collection of solo acoustic guitar studies is a sheer pleasure. It's quiet and contemplative and a perfect way to end the day." -Jim Tarbox, The Irish Gazette
"Exquisitely wrought melodies" -Michael Metzger, MinnPost
"Irish instrumental music crafted in elegant style and striking intimacy" -Colin Irwin, fRoots
"An all-instrumental gem" -Bill Margeson, Irish Music Magazine
"A beautiful recording"    -Jamie Gans, WFHB
"Indescribable instrumentals"    -Dan Rein, KFAI
"This CD puts him firmly in the spotlight as a solo guitarist.  He has a delicate and expressive touch and an ear for great melody. …His playing is rich in subtlety and full of soul."    -Tim Readman, Penguin Eggs
"Elegant beauty nobody with ears will fail to appreciate"  -Rambles.net