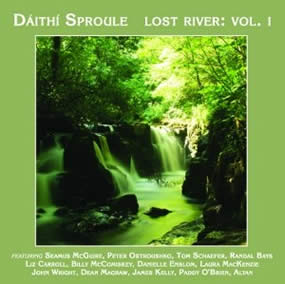 "Lost River, Vol. 1" is the long-awaited second song album of Dáithí Sproule.  Featuring songs in Irish and English, exquisitely arranged and accompanied on guitar, the album includes guest performances by Seamus McGuire, Peter Ostroushko, Tom Schaefer, Randal Bays, Liz Carroll, Billy McComiskey, Danielle Enblom, Laura MacKenzie, John Wright, Dean Magraw, James Kelly, Paddy O'Brien, and Altan.
Says Sproule: "The heart of this album is a body of songs performed by myself on vocal and guitar, traditional songs I have sung and loved for decades. But the end result you will hear is also the product of the collaboration and cooperation of many of my brilliant friends, recorded in places as far apart as Ramelton, Co. Donegal, and Whidbey Island, off the west coast of America. It sounds complex, but with their amazing skill and good-heartedness, my friends made it easy. I know you will love their playing, and I hope you will love these songs as I do, drawn from the deep river of traditional song."
Lost River, Vol. 1, is released and widely distributed by New Folk Records and Cló Iar-Chonnacht.
Praise for Lost River, Vol. 1, released in 2011:
"Sproule shines"   – Earle Hitchner, The Irish Echo
"Go hálainn ar fad" – Seán Bán Breathnach, Raidió Na Gaeltachta
"His best work ever"    – Jack Baker, Piping It In
"A beautiful disc" – Tom Surowicz, Minneapolis Star Tribune
"The latest expression in an ever-morphing and expanding reservoir of creativity….It is a gem." – Bill Margeson, Irish Music Magazine
"An expertly-managed, affectionately-realised collection…his playing is expert and polished, subtly supporting and embellishing the melodies of the sung texts" -David Kidman, The Living Tradition
Reviews:
Earle Hitchner's review in The Irish Echo
David Kidman's review in The Living Tradition
Bill Margeson's review in Irish Music Magazine
Links:
Lost River Press Release (pdf)